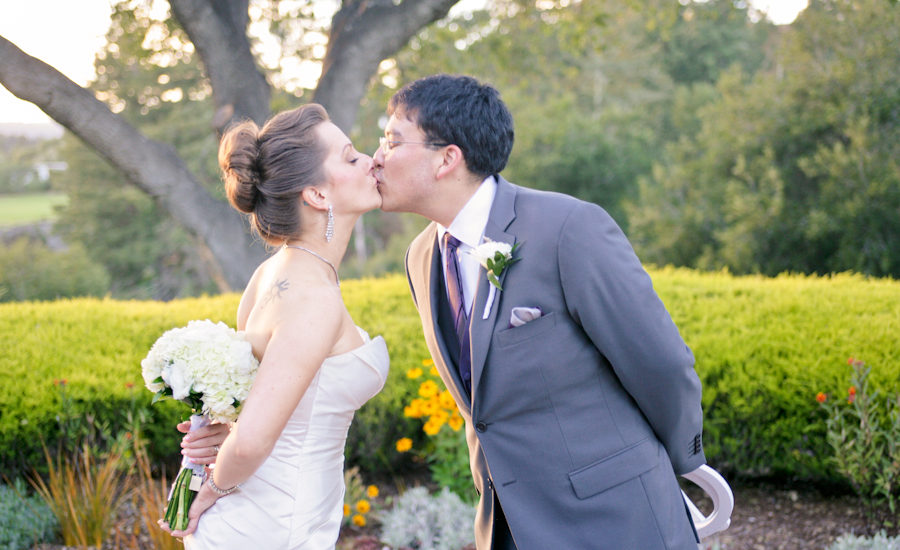 Hollins House Pasatiempo Santa Cruz Wedding Photographer
About the Day
Patti and Nick were married last summer at the very epic Hollins House at Pasatiempo. This venue is simply amazing, and looking down over the green, onto the town of Santa Cruz and the Pacific beyond, it's almost as if you've been brought back in time.
Patti and Nick chose a deep royal purple as their colour, and touches of it were found at every turn. Gorgeous florals, table settings, and silk ribbon runners accented the beautiful setting. It was an August wedding, and the weather was perfect for the season, a very comfortable and pleasant late afternoon. A lovely harpist accompanied the ceremony, which ended with purple fluffiness being tossed in celebration – and also made for really awesome photos. Stunning sunset portraits outside on the front courtyard were complete with the bride kissing a frog! At request of her mama, because you know, she finally found her prince 😉 The very great band called Wally's Swing World got the crowd moving, and everyone enjoyed the party into evening.
For the most excellently told proposal story, read below (written by Nick and Patti)
Our Story
Across The Bay
She would say they met sailing, he would say they met while he was chauffeuring, because the first time they saw each other, she was sailing from Pt. Richmond to St. Francis Yacht Club, joy riding across the bay, and taking a detour around Angel Island. He got to drive from Pt. Richmond to St. Francis Yacht Club, through traffic, got lost in the Presidio, and still arrived over an hour before the boat. He still regrets not sailing that day, as it was a beautiful San Francisco day with a strong 15 to 18 knot wind.
The Racoons
He took her down to the bluffs where they would always walk, looking for the bench they would always sit on, hugging her because she was always cold when she was at the beach. Just as his hand reached into his pocket to fumble with the jewelry box, there was a rustling in the bushes. The street lights behind them illuminated pairs of eyes in the foliage, first there were three pairs, then four, five, then six, several ran off and then more emerged. The eyes started to come closer so the couple quickly walked over to the stairs that they would always walk up and down and sat on the bench that people would always be stretching on and he got down on one knee and did something that he never did. And she said Yes.
Vendor List:
Photography: Hayley Anne Photography
Flowers: Boulder Creek Flowers
Dessert: Freedom Bakery And Confections
Hair Stylist: Robin Fields Of Rendezvous Salon
Limo : Blue Water Limo
Tux And Suits: Men's Wearhouse
Wedding Dress: Melissa James
Bride Ring: Cazenovia Jewelry
Groom Ring: Keepsake Diamond Center
Harpist: Juli Alexander
Band: Wally's Swing World
Venue: Hollins House At Pasatiempo